Frequently Asked Questions
Whether it is the first time or the umpteenth time that you visit one of our houses, you are bound to have questions. Below we try to answer most of them for you, but of course you can always visit info@operaballet.be for more information.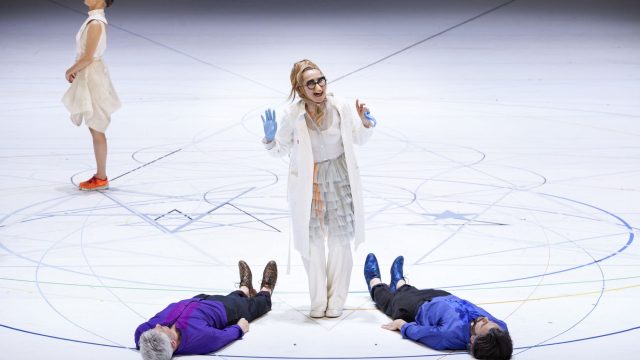 TIMING AND DURATION
WHEN DOES THE PERFORMANCE START?
The starting time varies regularly. So always check the time stated on your tickets, or on our website.

HOW LONG DOES THE PERFORMANCE LAST?
The evening performances of our opera and ballet productions usually end around 11 pm. There is usually at least one interval. For a better estimate of the exact timing, please check our website or contact our box offices a few days before the premiere.

WHAT IF I AM LATE?
Once the show has started, you will not be allowed back into the theatre. That would be very inconvenient. Latecomers are looked after by the theatre staff and can follow the performance on a monitor. At the first appropriate interruption, they are let into the auditorium accompanied by the theatre staff. Tickets for latecomers will never be refunded.

FROM WHEN CAN PROGRAMME BOOKS BE PURCHASED?
Programme books are available from four days before the premiere at the box office and before and during the performances in the entrance hall.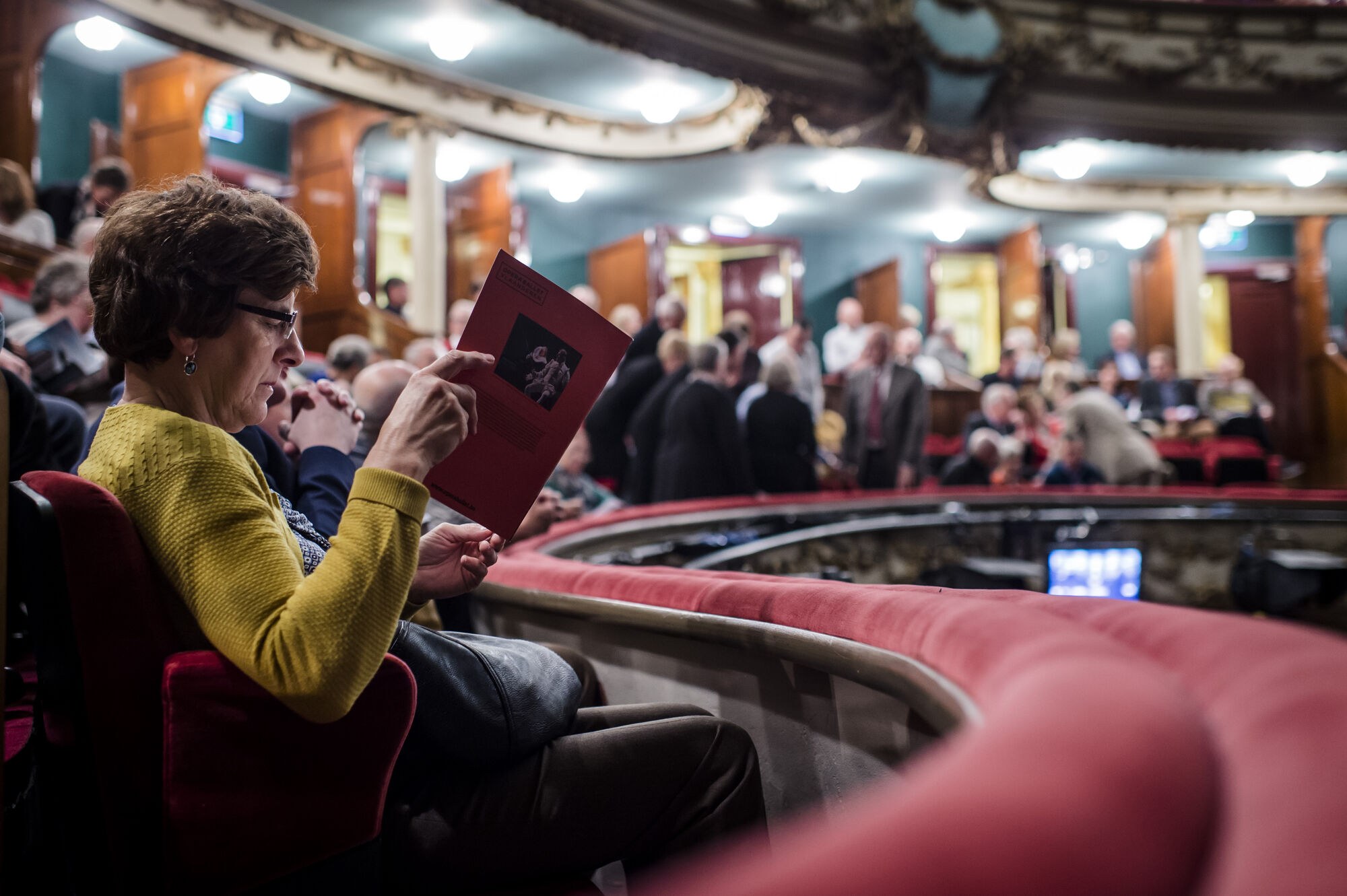 DURING THE PERFORMANCE
MAY I UPGRADE TO A BETTER SEAT IF IT TURNS OUT TO BE FREE?
No, you may not upgrade yourself. Tickets are only valid for the seat stated on them, and the venue staff may ask for your ticket at any time. If you find yourself in a more expensive seat, you may be asked to pay an extra fee.

CAN I TAKE MY COAT/ UMBRELLA/ BACKPACK INTO THE HALL?
Use of the cloakrooms is compulsory in both opera houses and at Theatre 't Eilandje, but it is free of charge.

WHAT IF I LEAVE THE THEATRE DURING THE PERFORMANCE?
After leaving the theatre, you may not under any circumstances re-enter the theatre while the performance is still on. We do this so as not to disturb the other visitors. You will be allowed back in after the next intermission.

CAN I BE FILMED/PHOTOGRAPHED DURING MY VISIT?
Opera Ballet Vlaanderen has the right to record the performances (image and/or sound) with the audience in the hall. However, this will be done very discreetly.

CAN I MAKE VIDEOS OR TAKE PICTURES MYSELF?
Mobile phones must be switched off during the performance. Audio or video recordings are absolutely not allowed. Taking photographs before the performance or during the applause is permitted.

CAN I EAT OR DRINK SOMETHING IN THE OPERA HOUSE?
Of course you can. Our foyers are open to the public before, during and up to an hour after the performance. You can always go there for a drink or a snack. During (long) opera performances, sandwiches are also available. Eating or drinking in our halls is of course NOT allowed.

WHAT IF I DON'T UNDERSTAND THE LANGUAGE?
All operas are sung in the original language. The Dutch translation can be followed via surtitles. This is shown above and beside the stage. Unfortunately, the surtitles are not equally visible from all the seats in the auditorium. The box office will be happy to inform you about this, but you can also check the visibility from a specific place in the auditorium during your online order. The text of the libretto is also available in the original language and in a Dutch translation in the programme book which is on sale in the entrance hall before and during the interval.

I HAVE LOST OR FORGOTTEN SOMETHING AT A PERFORMANCE.
Send an email to info@operaballet.be with a description of your lost item and your contact details so our staff can look for it.

HOW MUCH DOES A TICKET COST?
The price of a ticket varies, depending on the type of performance and your seat in the theatre. However, we are convinced that there is room for every budget in our theatre. See also our page with prices and discounts.

FROM WHEN CAN YOU BUY SINGLE TICKETS?
Single ticket sales usually open from the end of June.

I AM UNEXPECTEDLY UNABLE TO ATTEND, CAN I CANCEL MY ORDER?
We do not refund tickets, except in case of cancellation of the performance.

WHEN WILL MY TICKETS BE REFUNDED?
Tickets are neither refundable nor exchangeable, unless a performance is cancelled. All information and price quotes communicated by Opera Ballet Vlaanderen or third parties are without obligation.

ARE THERE SPECIAL RATES FOR PEOPLE WITH A DISABILITY?
Most certainly. You can read more about it here.
BACKGROUND TO THE PERFORMANCE
HOW CAN I PREPARE FOR AN OPERA OR BALLET PERFORMANCE?
45 minutes before each opera performance, you can come to our foyer for a free introduction by one of our dramaturgs; an ideal last-minute preparation. Although most Opera Vlaanderen and Ballet Vlaanderen productions are new (i.e. they are built from scratch), we do try to publish visual material to give you an idea of what the performance will be like. From a few days before the premiere, you will be able to find short films on our website, and from the premiere, images of the performance itself. So keep an eye on the website if you are planning to come to a performance. We will also send you a reminder e-mail a few days before the performance, with practical information and more background. So make sure your details are complete and up to date in our files, so you don't miss it. You can do this yourself in your account or by sending an e-mail to info@operaballet.be.

IS THERE BACKGROUND MATERIAL AVAILABLE ABOUT THE PERFORMANCES?
On this website you will find text material, photos, videos and Spotify listening lists which we also share via social media. For each opera, ballet or concert we also sell a programme book: a beautifully designed information and/or photo book. In it you will find both a short 'introduction', which will familiarize you with the material, and reflections on the themes on which the production focuses. In addition, four times a year we publish a fascinating - and completely free - magazine. It offers background information, interviews and inspiration. You can find a copy at the box office, in the entrance hall of our houses or you can receive it by post.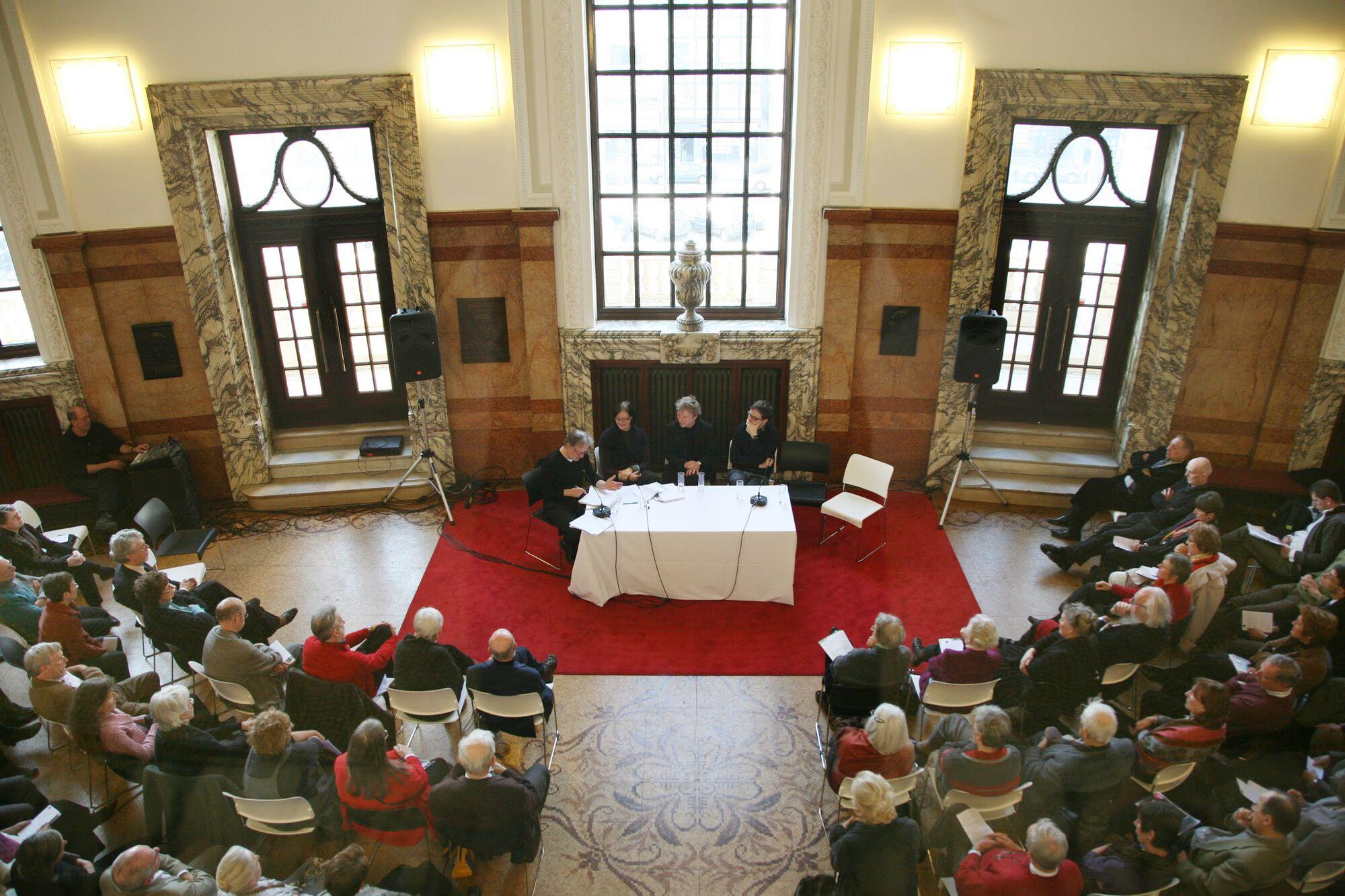 I HAVE NEVER BEEN TO AN OPERA OR BALLET PERFORMANCE.
We always welcome new audiences with open arms. Read more on this page for newcomers.

DO YOU ONLY PERFORM OPERAS AND BALLETS?
Opera Ballet Vlaanderen wants to appeal to as wide an audience as possible. That's why, apart from operas and ballets, we also organise concerts, youth performances and numerous broadening and deepening activities for both beginners and connoisseurs. For instance, we organise opera courses, meeting moments with director and cast, we let you take a look behind the scenes of ballet and opera and we regularly make a switch to other disciplines. Take a look at our programme overview or the calendar to see what's on offer.

WHAT WILL MY DATA BE USED FOR?
Opera Ballet Vlaanderen values your privacy as a customer and processes your personal data in accordance with the privacy statement, which can be consulted here in full. By buying tickets, using our services (including our websites) or applying for a job via our website you agree to this privacy statement.

I WOULD LIKE TO WORK FOR OPERA BALLET VLAANDEREN. HOW DO I GO ABOUT THAT?
Take a look at our pages with vacancies or send us a spontaneous application. Please mention for which position and/or department you are applying. The more specific your application, the greater the chance that your application will be taken into consideration.

HOW DO I CONTACT THE PRESS OFFICER?
Please send all press-related questions to pers@operaballet.be or log in via the press platform.
COVID measures
SAFE TRIP TO OPERA BALLET VLAANDEREN
The Corona measures are now largely behind us.
Naturally, we continue to keep a close eye on the air quality in our auditoriums, and ventilation is provided on a regular basis.

GENERAL ARRANGEMENTS
- Are you ill or are you suffering from symptoms? Then please stay at home.
- Good hand hygiene remains important. In the entrance hall and corridors there are dispensers to disinfect your hands. Also wash your hands thoroughly after visiting the toilet.
If you notify us in advance, you are entitled to a voucher for the value of your ticket.