Subscriptions
Getting a subsciption or season tickets is more than ever the most economical choice. You are guaranteed a fixed seat in the auditorium. And we also take your schedule into account. Read below what other benefits we have in store and how you can order.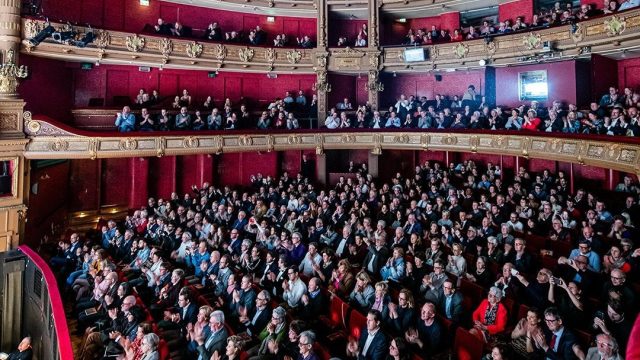 Quick click-through to:
The best price
The price of a season ticket is always lower than the standard rate. To better match demand to supply, we use dynamic ticket pricing, which allows the price of single tickets to go up during the season depending on demand. Moreover, you pay no booking or shipping costs. The advantage per season ticket can easily amount to at least 50 euros. In the brochure, we only give the price range for season tickets, as the price often depends on a concert or show that does not take place in our own theatres. You will get the exact price when ordering here on the website or through our box offices.
NEW - For those under 35, we offer our season ticket packages at a 30% discount. Are you younger than 26? Then the discount goes up to 50%.
Change dates for free
Possibly one of the dates in your subscription does not suit you. No worries! As a subscriber, you can exchange your tickets for another date of the same production twice a season for free. Swapping dates is of course subject to availability and you can do so up to a maximum of one week before the performance. From the third exchange, you pay 5 euro exchange costs per ticket (free for Friends of Opera Ballet Vlaanderen). Exchanges can be made from the start of ticket sales on Saturday 17 June.
Certain of a (permanent) seat
In almost all subscription formulas, you have your own fixed seat for all performances in our own theatres. A subscription is the only way to keep the same seat year after year. Moreover, you can renew or change your subscription for the next season with priority.
More benefits
one free (intermission) drink per season
one 15% discount on a performance not included in your season ticket
priority when buying extra tickets for a performance from your season
ticket discount price for programme books
NEW worry-free parking thanks to the Interparking parking card
NEW our magazine delivered free to your house
during the season we occasionally surprise you with extra benefits
Extra benefits for new subscribers
Are you a first-time Opera Ballet Vlaanderen subscriber? We would like to invite you to one of our Saturday guided tours. Get to know the workings of your new home, meet our staff and get some insider tips to make the most of your visit to OBV. Book your free tickets directly with the box office, and we will arrange a reception tailored to your needs.
Ordering a season ticket
Did you already have a season ticket for the 2022-2023 season?
Renew Period: from Thursday 4 May to Friday 26 May 2023
Renewing your season ticket is very easy via the link you receive in your mailbox. You then renew your season ticket from last season (same place, same season ticket). Would you prefer another subscription series or another place within the subscription series you already had? Then indicate that during this period to us as well. Your current places will then be held for a while, so you can decide later. If you do not respond before Saturday 27 May, your places will be released for sale.
Change places Period: from Saturday 27 May to Tuesday 30 May 2023.
Friends of Opera Ballet Vlaanderen have priority and can already change from Friday 26 May.
If you indicated in the previous period that you want to change your seats, now is your chance. You can check online which seats are available in the different series.
You did not yet have a subscription in the 2022-2023 season?
New subscriptions will be on sale from Wednesday, May 31, 2023. From 31 May, you can order new season tickets online and pay immediately. You choose your own seat. From that day onwards, you can also contact the box office by phone or on site.
Friends of Opera Ballet Vlaanderen have priority: new season tickets will go on sale for them from Tuesday 30 May.
NEW 100% OBV season ticket
Thanks to this new formula you can get to know Opera Ballet Vlaanderen's DNA
Convinced?
DISCOVER ALL FORMULAS HERE or feel free to contact the box office if you have further questions