Bereikbaarheid - Opera Gent
Het operagebouw is toegankelijk via De Kouter. Rolstoelgebruikers kunnen het operagebouw betreden via het peristilium.
Schouwburgstraat 3
9000 Gent

BY BIKE
The city of Ghent has developed a handy route planner for anyone who wants to discover the city by bike. Check the bicycle route planner at fietsrouteplanner.gentfietst.be.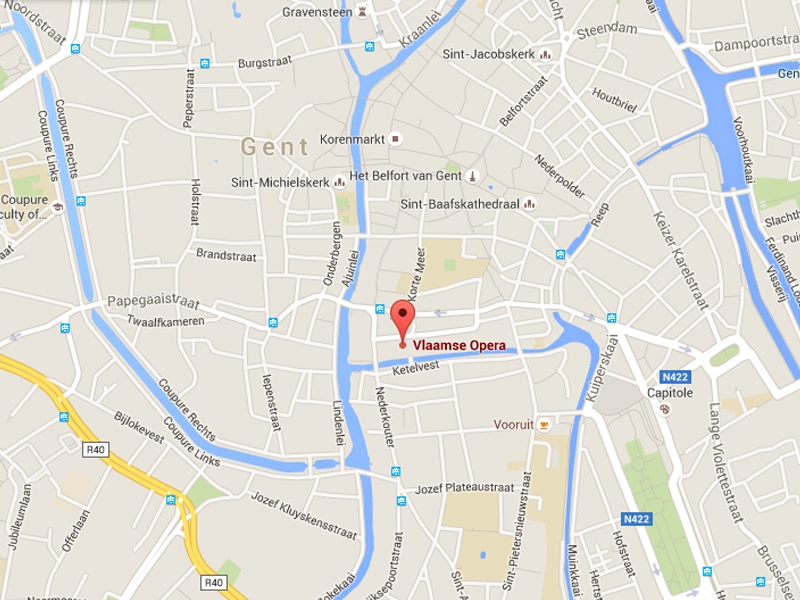 BY PUBLIC TRANSPORT
TRAIN

Station Gent-Sint-Pieters, accessible via tram 1 or bus N1 (night line). From Gent-Dampoort station it takes about 25 minutes by foot or by bus to get to the Kouter. Check the exact times on www.nmbs.be.

TRAM

tram 1, stop Korte Meer or bus N1 (night line), stop Zonnestraat
tram line 2 from P+R Gentbrugge or Gent Zuid, stop Korte Meer
Check the timetables at www.delijn.be.
BY ELECTRIC TAXI
Ghent has recently launched an overview of all Ghent taxi companies that offer electric taxis. These are no more expensive than regular taxis, but do not cause any air pollution. Together we can keep Ghent's air clean!
You can find an overview on www.elektrischetaxis.be.

BY CAR
Opera Gent is located right in the city centre, on the Kouter. Please note: since spring 2017, the new circulation plan in Ghent has come into effect. This has an impact on the route you can take to the city centre. You can read all about it on the website of Stad Gent.

You can find an alternative to the closed P+R Gentbrugge here.

Nearest car parks:

Attention: the capacity of the car parks is limited. Taking public transport from the outskirts of the city is a less stressful alternative.