The Story of The Convert
Stefan Hertmans' novel 'The Convert' tells the story of a young mother who becomes the victim of a pogrom in times of religious violence. Read here how the book is translated into an opera.
Thu, Apr 14, 2022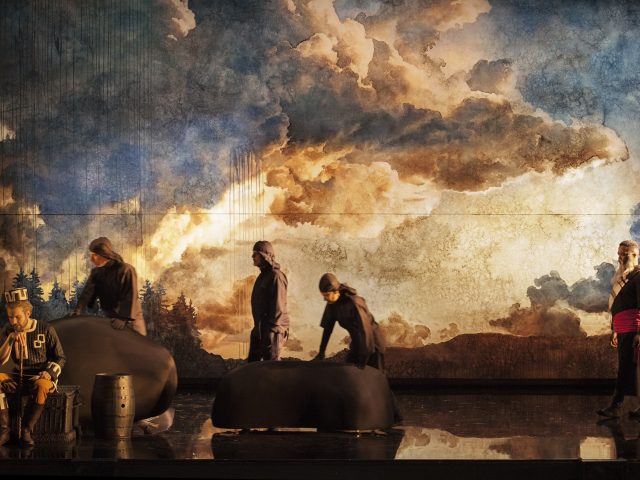 Composition: Wim Henderickx
Libretto: Krystian Lada, after 'De bekeerlinge' (The Convert) by Stefan Hertmans
World preimiere: Opera Ballet Vlaanderen, 10 mei 2022, Antwerpen
First act
It is the autumn of 1070 in Rouen, France. The Norman Gudbrandr and his wife Lutgardis, who has Flemish roots, are wealthy Christians and have their newborn daughter Vigdis Adelaïs baptised in the cathedral. Seventeen years later, in the spring of 1087, Vigdis was listening in the adjoining room to a heated discussion between her parents. Gudbrandr is critical of the political corruption within the Catholic Church. He longs for peace between Judaism, Christianity and Islam and denounces the proliferation of anti-Semitism. His wife, on the other hand, accuses the Jewish people of allowing the holy city of Jerusalem to fall into the hands of the Islamic Saracens.
Vigdis is in love with David Todros, a Jewish student from Narbonne. She confides in her governess, but she warns that their love is forbidden. When her father finds out and reacts furiously, Vigdis decides to flee with David to his home town. It is summer. Fleeing from the knights of Gudbrandr, a swindler offers the couple refuge in exchange for a night with Vigdis. However, he is soon swept away by a parade of jesters led by a false prophet. The lovers spend their first night together and David gives Vigdis her Hebrew name: Hamoutal. She feels torn between the Christian and Jewish faiths. In the autumn of 1087 they arrive in Narbonne. Vigdis/Hamoutal experiences the Jewish conversion ritual led by David's father Rabbi Todros. She is pregnant. The lovers marry.
A few months later Hamoutal and David have to flee again. Gudbrandr is hot on their heels. On the way to their place of refuge in Moniou, Vigdis prays a Christian prayer. David is furious: if she ever returned, he warns, she would be burned as a heretic. It is 1096, Hamoutal and David have built a life in Moniou with their three children. The village jester Urbanus, namesake of pope Urban II who in 1095 called for the First Crusade, declares his hatred of the Arab peoples and sows fear among the villagers.
Raymond of Toulouse and his soldiers stopped at Moniou. They were part of the First Crusade. When the Jewish community refuses to give up its synagogue to accommodate the knights, it leads to a bloody pogrom. Two knights attempt to rape the fleeing Hamoutal. When David tries to prevent this, he is killed. Vigdis sees how her two eldest children, Yaakov and Yusta, are kidnapped by soldiers.
Second act
Hamoutal decides to travel after her children. She follows the Crusade to Jerusalem. On the way to Marseille, she reflects on her life with her baby in her arms. She no longer knows which God to pray to. When she arrives in the city, a shipowner reads the letter of recommendation that Obadiah, Rabbi of Moniou, wrote for her. He will bring her safely to Genoa and from there she will travel on to Alexandria. She is exhausted when she arrives. She wakes up in the desert while two women perform a ritual with her. The women try to sell Hamoutal in the slave market. The merchant Embriachi takes her. He treats her with great care at first, but on the way to Fustat he rapes her. Hamoutal's baby dies.
Two years pass. In Nájera, Rabbi Todros tells Rabbi Obadiah about Hamoutal. In Fustat, she remarried and built a new life. When she heard that Yaakov and Yusta were still alive and with her parents, she travelled back. She took the safest route through northern Spain. It is 1098, and when she arrives in Nájera, Hamoutal is recognised as the missing Vigdis. In a frenzy of rage, she denounces the Christian priest and the knights who are present. She calls herself the Jewish Hamoutal, and curses God and everyone who has caused her children, David and herself so much suffering. She is burned at the stake as a witch, but the Rabbis Todros and Obadiah who are present buy her freedom. Vigdis flees again. Meanwhile, it is the spring of 1099. Rabbi Obadiah finds Vigdis/Hamoutal in Moniou. She is broken, wanders around in the remains of the synagogue and dies. Obadiah sings a kaddish, a mourning prayer in praise of compassion.