OBV AMBASSADORS
Becoming a OBV Ambassador is open to anyone with a heart for culture, more specifically for opera, ballet and music education.

Jacques Vandermeiren, CEO of Port of Antwerp-Bruges and member of the board of OBV has committed himself as a co-founder and inspirer of the OBV Ambassadors.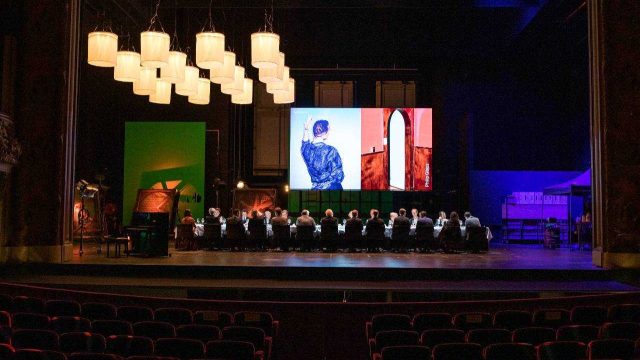 What does it mean to be a OBV Ambassador?
you are invited twice/season to an exclusive cultural event at a unique location
you will be invited and be guest of honour at every Opera Ballet Vlaanderen premiere: 2 tickets in the highest category, either in Antwerp or Ghent
you enjoy a VIP reception during each premiere
meetings with our artistic cast on the occasion of our performances
if you wish, we mention your name and/or your company ( logo ) in our communication concerning the OBV Ambassadors (website, programme books and season brochure)
you have a heart for culture, enjoy a unique experience and support our House and its ambitions
For all your questions:
An Verschooten - OBV Relatiebeheer (averschooten@operaballet.be)
OBV Ambassadors
dd. 19.06.2023
Basil en Carmen Aloy (Vitrix), Pol Bamelis, Paul Cools (LAON Advocaten), Herman Daems, Stefaan De Clerck (Proximus), Eric De Clippel (Degroof Petercam), Jacques Delen en Michel Buysschaert (Delen Private Bank), Bart en Mary-France Gonnissen (Select Group), Erik Keustermans (Remant Transport Architects, Pedro Matthynssens (Van Breda Risk & benefits), Griet Nuytinck (Labo Anacura), Marc Stordiau (IPEI), Hugo Van Geet, Jan Van Geet (VGP Group), Wouter Vandeberg (SDM Corporate Finance Group), Jacques Vandermeiren (Port of Antwerp-Bruges), Chris Vandermeersche (Ernst & Young)