House and people
Every day, some 450 permanent staff work to bring our productions to the stage, from the concept in the head of a production team to the premiere. Discover below all the different departments.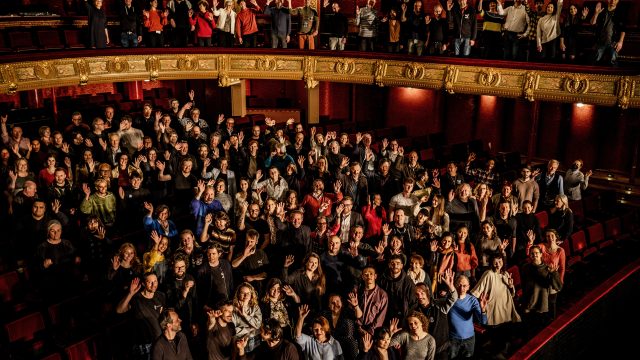 Executive Committee / General Management, Opera, Ballet, Vonk, Music, Orchestra, Choir, Children's Choir, Dancers, Dramaturgy, Central Planning, Production & IT, Technical Direction, Technical Production, Technical Support, Stage Technique, Lighting / Audio / Video, Costume Studio, Set Design Studio, Props Studio, Hairdressing & Grime, Marketing & PR, Hospitality and Audience Experience, Facility Services, Human Resources, Prevention & Wellness, Finance, Audience Reception, Board of Directors
Box office
+ 32 70 22 02 02 (payed, max. 0,30€ per min.)
+32 3 202 10 20 (for foreign customers)

Opening hours: Tuesday to Saturday between 13:00 and 18:00 and one hour before the start of each performance. The box office at 't Eilandje is only open from 1 hour before the performances. For all other questions, please visit our box office on the Frankrijklei.
You can always reach us at info@operaballet.be or by phone from Tuesday to Saturday between 11:00 and 18:00.
Opera Antwerp
Reception: +32 3 202 10 11
Frankrijklei 1
2000 Antwerpen
Opera Gent

Reception: +32 9 268 10 11
Schouwburgstraat 3
9000 Gent

Theater 't Eilandje
T +32(0)3 234 34 38
Kattendijkdok-Westkaai 16
2000 Antwerpen

Email addresses personnel
The permanent staff of Opera Ballet Flanders have an email address composed as this example:
Name: Jan Peeters
Email address: jpeeters@operaballet.be